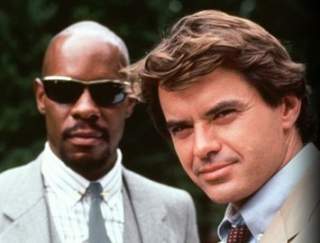 Spenser for Hire was an ABC TV drama starring Robert Urich as Spenser. It ran for three seasons from September 30, 1985 to May 7, 1988 and was then followed by 4 made for TV movies from early 1990's to late 1995.
Robert Urich (who sadly died in 2002 of cancer, at aged 55, R.I.P.) as Spenser (eventually left in 1988 and then presumbaly died later in the spring of 1988 and is now dead and is not alive after) and then is now gone.
Avery Brooks as Hawk (eventually got shot in one episode but is found alive and recovered after one episode, the n got his own spinoff series in early 1989, a year after Spenser's passing and death and the show's cancellation, then canceled the show and went off the air in late 1989 and it ended and it did not air after 1989.)
Barbara Stock as Susan Silverman (Season 1: 1985-1986 & Season 3: 1987-1988) (Seasons 1 and 3) left after season 1 in 1986, (moved to presumbaly San Francisco, CA, flew and returned, and then moved back in season 3 in late 1987, and then left in late 1988, (after the show ended).
Richard Jaeckel (died in 1997, aged 70, R.I.P.) as Lieutenant (Lt.) Martin Quirk (1985-1987), (Seasons 1- early season 2) Retired later, and Saddenly, Presumably and eventually died in late 1987 at the beginning of season 3 of a heart attack, and is now deceased after seasons 1 and 2 and is now dead and is not alive after and then is now gone. The character of Lt. Martin Quirk is written out of the show as having died from the series and not seen after the end of Seasons 1 and 2 (after early 1987). He will be deeply missed from the show.
Ron McLarty as Sargent Frank Belson (left in late 1988 after the show ended)
Carolyn McCormick as Assistant District Attorney (A.D.A.) Rita Fiore (Season 2: 1986-1987), joined the job in Washington, then quit and then resigned the job and left in early 1987 and then moved away after the end season 2 and is not seen after and never came back, therefore it was explained that it was her departure later after the end of season 2 from the series. She is written out of the series and is no longer on the show or seen after season 2. the Rita Fiore character is written out of the series after the end of Season 2, during the beginning of Season 3 (after early 1987). Carolyn McCormick is dropped off canvas and written out thereafter.
References
Edit
http://en.wikipedia.org/wiki/Spenser_for_hire
Community content is available under
CC-BY-SA
unless otherwise noted.